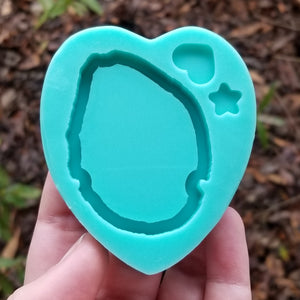 This mold is made-to-order. Processing time on made-to-order molds may vary.

For size: the geode design is approximately 2.5 inches tall.
This mold contains 1 backed shaker designs. Any additional inserts may vary mold to mold. Your mold may not be identical to the mold pictured.
B-grade mold is discounted because one of the inserts is unusable.

The silicone used for these molds is "good for casting wax, gypsum, resins, concrete and other materials." It is also "heat resistant up to 450°F (232°C) and is suitable for casting low-temperature melt metal alloys." They are NOT food-safe.



These molds are all handmade and will have slight imperfections. If imperfections are greater, the molds will be marked as "B-grade" or "C-grade" in either the item title or description. I will not be accepting returns or exchanges on molds.

These designs were created by TheNeonGeisha for this shop. Therefore, recasts of these molds are not allowed and if we find that a customer is making molds/recasts from my designs, we will refuse any further sales.

If you have any questions or concerns, please feel free to send me a message! I will get back to you ASAP.

Interested in a custom item? Contact us for more information!

Thank you so much for checking out my shop! Have a great day!